AUSTIN PRIVATE EVENT VENUE
The aquarium is the perfect Austin private event venue: it is large, it includes  entertainment, and there are a number of ways for us to organize the room to suite your events' needs.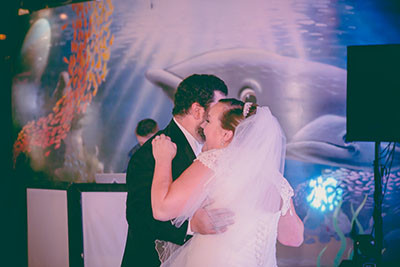 PRIVATE EVENTS
Austin Aquarium has over 24,000 square feet of space and it can host private events with 30 to 590 guests. Your event can be held in a private room – or, you can rent the whole aquarium for the night!   Whether you are having a birthday party, a wedding, or a business meeting, your guests will be delighted to know that they "commandeered" the aquarium for their own private party.
PREPARING FOR THE PARTY
If your party has more than 590 guests, we can provide more space by installing an enclosed tent in the parking lot.  This space can be used for entertainment, dining, or extra seating space.  For smaller parties, of 30 to 50 guests, we offer several attractive rooms which can be used as a  private meeting place.  Bring an event planner, a chef, or other service providers to help make your party a success.  This Austin private event venue includes a guided tour of the aquarium with a staff educator.

EVENTS HOSTED at the AQUARIUM
Business Meetings & Corporate Parties
Retirement Parties
Family, High School and Military Reunions
Rehearsal Dinners, Weddings, & Receptions
Bar Mitzvahs
Quinceanera
Anniversary Celebrations
Church Socials
Christmas & Holiday Parties
Proms
Themed Events
FACILITY
We have several attraction aquarium rooms which can be arranged for many different types of events. Whether you have an event where people would be free to roam about or your event requires specified seating, call us for further information. We would love to discuss how we can accommodate you. Come in for a tour and envision the possibilities that can be yours for a unique, one-of-a-kind event!
Please Contact Us for Availability and Pricing
info@austinaquarium.com
512-222-5586